Our country is in the midst of four crises—a health pandemic, an economic crisis, a reckoning with racism, and a climate emergency—all made worse by President Trump. And now Trump is not just shattering democratic norms, he is putting the very existence of our democracy on the line—creating the most existential crisis—by threatening to reject the peaceful transfer of power if he loses the November election.
Joe Biden's lifetime of service has led him to this moment. From his first election he has been driven by a deep desire to extend opportunity and justice to all and to ensure everyone in our country can live without fear and pursue a better life for themselves, their families and their communities.
Elections are always about choices, but this one is the most consequential of our lifetimes. It's about who will help ensure everyone has a path toward a better life and who will save our democracy. Joe Biden and Kamala Harris are the leaders we need to confront the crises we face and reimagine a fairer and more just America—to combat the pandemic, so Americans can safely proceed with our lives; to fund public schools; to strengthen healthcare; and to rebuild our economy so working families have a shot at good union jobs. Biden and Harris are the leaders we need to protect the right to vote and our core values. They understand that justice and freedom must apply to all.  Read more (PDF).
On the Issues
Click on an issue area below to compare the candidates' views and proposals.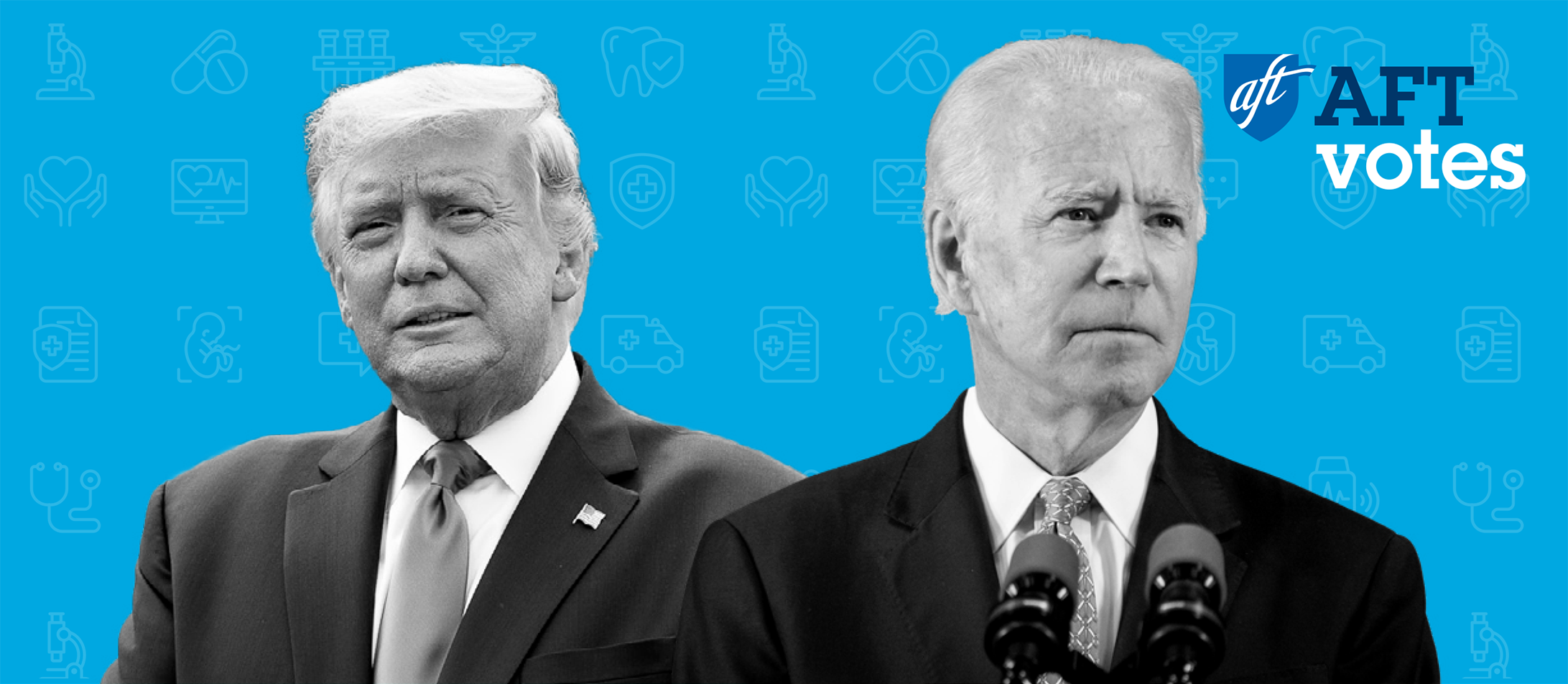 COVID-19 Response
COVID-19 Response
| | |
| --- | --- |
| Trump's response to the epidemic has been inept, chaotic, contradictory and catastrophic. Instead of protecting public health, he has downplayed the threat, dismissed the advice of our nation's top scientists and public health experts, and rushed to reopen without regard to safety. | Biden has a coordinated, science-based national strategy to combat the pandemic and secure a full economic recovery. He will listen to public health professionals and ensure that all frontline workers, including educators, have the necessary PPE. |
| Trump failed to provide medical workers the safety gear, COVID-19 test kits and supplies they needed, even after more than 60,000 healthcare workers were infected and 300 died during the first four months of the pandemic. | Biden will use the Defense Production Act to combat the COVID-19 pandemic and protect healthcare workers. He will create a State and Local Emergency Fund that gives state and local leaders the power and resources to meet critical health and economic needs. |
| Trump has not secured enough PPE for healthcare professionals, resulting in the reuse of masks and forcing healthcare workers to obtain their own supplies. | Biden will implement a coordinated, nationwide, future-facing effort to acquire, produce and distribute PPE, test kits and machines, lab supplies, and other critical supplies. |
| The Trump administration fired the government's entire pandemic response chain of command, including the White House management infrastructure, and even proposed cuts to the Centers for Disease Control and Prevention two weeks after the coronavirus was a known public health emergency. | Biden will instruct the CDC to provide clear guidance and resources about both containment and mitigation for local school districts, healthcare facilities, higher education and the general public. |
| Trump contradicted public health professionals, including suggesting the use of dangerous, disproven drugs such as hydroxychloroquine. | Biden will accelerate a coordinated global approach to develop, manufacture and distribute a safe, effective vaccine. |
| Trump's failure to act to contain the coronavirus outbreak has contributed to an economic recession on a scale unseen since the Great Depression, with tens of millions of Americans out of work. | Biden will create millions of well-paying jobs, including mobilizing at least 100,000 people to support the public health response, and will enact premium pay for frontline workers putting themselves at risk. |
K-12 Education
K-12 Education
| | |
| --- | --- |
| Trump and Education Secretary Betsy DeVos are trying to force public schools to fully reopen before it is safe, even threatening to cut off federal aid to schools that do not reopen. | Biden supports reopening public schools only when it can be done safely, with protections for the health of students, teachers and school personnel, including the necessary personal protective equipment for educators. |
| Trump canceled the GOP convention in Jacksonville, Fla., because of the risks to GOP delegates gathering in that coronavirus hotspot, yet he has demanded that children and teachers return to in-person learning in that same hotspot. | Biden agrees with the American Academy of Pediatrics and the AFT that "schools in areas with high levels of COVID-19 community spread should not be compelled to reopen against the judgment of local experts." |
| Trump and DeVos have proposed funding cuts for education every year during his administration. | Biden will provide critical funds for public education, including tripling Title I funding, fully funding the Individuals with Disabilities Education Act, expanding the number of community schools, and providing universal pre-K. |
| Trump and DeVos have called for expanding charter schools and creating a new national private school voucher program, which would divert needed funds from public schools. | Biden opposes private school vouchers and will ban for-profit charters while increasing accountability and transparency for current charters. |
| Trump proposed cutting more than $7 billion from education funding, including eliminating grants for teacher salaries and training. | Biden will help districts offer educators competitive salaries through use of additional Title I funds. Additionally, he will help fund professional development for teachers, paraprofessionals and school employees, and programs to address teacher diversity. |
| The Trump administration proposed cutting benefits for 3 million Americans, resulting in 1 million children losing access to no-cost school meals and 684,000 households with children losing access to Supplemental Nutrition Assistance Program benefits. | Biden will increase SNAP benefits by 15 percent during the recession and expand other nutrition assistance programs, with options for online ordering. |
| Despite more than 14 million students having police in their schools but not a counselor, psychologist, social worker or nurse, Trump has directed funding toward hiring additional school police instead of counselors. | Biden will provide at least one full-time nurse and mental health professional in every school as part of an effort to create more community schools. |
| The Trump administration proposed eliminating the preschool development grant program that assists states in expanding and improving pre-K. | Biden will provide universal pre-K for 3- and 4-year-olds and ensure that the early childhood education workforce is supported by tripling Title I funding. |
Higher Education
Higher Education
| | |
| --- | --- |
| Trump proposed eliminating the Public Service Loan Forgiveness program and sought $207 billion in reductions to student loan programs over the next 10 years. | Biden will strengthen the Public Service Loan Forgiveness program to provide $10,000 per year of student debt relief for those working in public service. |
| Trump proposed cutting funding for Perkins loans for disadvantaged students and reducing funding for work-study programs and grants to states for career and technical education. | Biden will make colleges and universities more affordable by supporting a Title I-type program for postsecondary education and making community colleges tuition-free for families making less than $125,000 annually. |
| The Trump administration weakened protections for students defrauded by for-profit colleges or career profiteers and reduced debt forgiveness by more than $500 million. | The Biden administration will return to the Obama-Biden borrower defense rule, forgiving the debt held by individuals who were deceived by for-profit colleges or career profiteers. |
| | |
| --- | --- |
| Trump rejected legislative fixes to lower the cost of prescription drugs. | Biden will broaden and improve access to high-quality prescription drugs and allow Medicare to negotiate for lower prescription drug prices. |
| In the midst of the pandemic, Trump continues to try to abolish the Affordable Care Act, putting the health coverage of millions of Americans at risk and allowing insurance companies to deny coverage for pre-existing medical conditions. | Biden will protect and build on the Affordable Care Act, offer a public option to give every American access to affordable health insurance, and allow Medicare to negotiate lower prices for prescription drugs. |
| Trump's budget proposed eliminating $403 million from health professional and nurse workforce training programs. | Biden will invest nearly $1 billion over four years to address nursing burnout, faculty recruitment and retention, and nursing workforce diversity. |
| Trump failed to take substantive action on gun safety, threatened to veto bills expanding background checks, opposed an assault weapon ban and suggested arming teachers with guns. | Biden will expand funding for and access to mental health services and will reinstate the Obama-Biden policy to keep guns out of the hands of certain people unable to manage their affairs for mental reasons—a policy that Trump reversed. |
Jobs and the Economy
Jobs and the Economy
| | |
| --- | --- |
| Trump's tax cuts for the wealthy benefited the top 1 percent who will get 83 percent of the gains in the bill's final year. | Biden will repeal the Trump/Republican tax cuts benefiting corporations and the wealthiest Americans. |
| Under the Trump administration, projections are for 20-30 percent unemployment, which would exceed the unemployment levels of the Great Depression. | Biden will support the American economy by investing $400 billion in products made by American workers. |
| The Trump administration has refused to raise the federal minimum wage, costing workers more than $2,500 annually due to inflation. | Biden supports a $15-an-hour federal minimum wage. |
| Under the Trump administration, nearly 1 million people who work in education have already lost their jobs in this recession and another 1.4 million are in danger of losing their jobs. | Biden supports providing state, local and tribal governments with the aid to fund educators, firefighters, healthcare and other essential workers. |
| Trump pledged to eliminate the payroll tax if he's re-elected this November—a move experts say will totally deplete Social Security by 2023. | Biden will protect and strengthen Social Security by asking Americans with especially high wages to pay the same taxes on those earnings that middle-class families pay. |
Civil and Human Rights
Civil and Human Rights
| | |
| --- | --- |
| The Trump administration has attacked voting rights and supports voter suppression measures, including making it more difficult for people to vote by mail, potentially disenfranchising millions of voters. | Biden has pledged to restore and strengthen the Voting Rights Act, improve voting protections, and prosecute hate crimes against people of color, the LGBTQ community and religious minorities. |
| Trump's family separation policy resulted in more than 5,400 children being separated from their parents at the border and held in cages. | Biden will strengthen Deferred Action for Childhood Arrivals and expand protections for Dreamers and undocumented immigrants. |
| Trump opposed the passage of the Equality Act, which would provide LGBTQ people with explicit and comprehensive nondiscrimination protections and would fill significant gaps in our federal civil rights laws for women, people of color and anyone protected under the law. | Biden will make enactment of the Equality Act a priority. While Biden was vice president, the United States made historic strides toward LGBTQ equality. |
| Trump appointees to the U.S. Supreme Court are responsible for controversial 5-4 rulings, including those that threaten public education, religious liberty, civil rights and workers' voice. | Biden will nominate federal judges who are committed to the rule of law, understand the importance of individual civil rights and civil liberties, and respect foundational precedents. |
| Trump rolled back Title IX guidance on sexual violence and expanded protections for those accused of sexual harassment, undermining victims' rights, and he has continued to make sexist remarks while in office. | The Biden administration will restore the Title IX guidance for colleges as well as develop stronger enforcement protocols. As a senator, Biden spearheaded the Violence Against Women Act, and he will continue to build on it as president. |
| Trump has trafficked in racism and divided our country with his rhetoric and actions, including separating immigrant families at the border, referring to white nationalists as "very fine people," and deploying the military to tear-gas peaceful protesters. | Biden's running mate, Kamala Harris, is the first Black and Asian American vice presidential nominee. His administration will root out systemic racism and invest more than $20 billion to support criminal justice reform. |
| Trump repeatedly incited violence against protesters, telling supporters to "knock the crap" out of them and saying the Black Lives Matter movement is "looking for trouble" and a BLM protester should be "roughed up." | Biden will make it a priority of the Justice Department to prosecute hate crimes committed against people of color, LGBTQ people and religious group members. |
| The Trump administration denied workers overtime pay they've earned and implemented a new rule that leaves millions of workers behind—including 3 million workers of color. | Biden will address wealth disparity in communities of color, including investing in historically Black colleges and universities and providing new capital and opportunities for small businesses that have been structurally excluded for generations. |
Workers' Rights
Workers' Rights
| | |
| --- | --- |
| Trump appointees to the National Labor Relations Board have sided against unions, making it easier for employers to silence workers' voices, including trying to reverse a rule that allows graduate student workers to form unions. | Biden will empower the NLRB to fulfill its intended purpose of protecting workers. |
| Trump's solicitor general filed an amicus brief in the Janus v. AFSCME case to weaken the voice of public employees and their unions. | Biden will support card check, the PRO Act and the Public Service Freedom to Negotiate Act, making it easier for both public and private sector workers to join a union. |
| Trump overturned the Fair Pay and Safe Workplaces regulations, which required federal contractors to disclose and correct serious worker safety violations. | Biden will ensure federal dollars do not flow to employers who engage in union-busting activities or violate labor law. He will award contracts to employers who support their workers, including those who pay a $15-per-hour minimum wage and family-sustaining benefits. |
| Trump's Labor Department rescinded the Obama-era joint employment rule under which employers could be held responsible for wage and hour violations by their staffing agencies, contractors and franchisees. | Biden will sign legislation to ensure workers can bargain with the corporation or franchiser—such as McDonald's—that actually holds the power and to ensure those employers are held accountable for guaranteeing workplace protections. |
| The Trump administration has refused to raise the minimum wage; as a result, workers effectively lose more than $2,500 every year due to inflation. | Biden supports a $15-an-hour minimum wage. |
Climate Change
Climate Change
| | |
| --- | --- |
| Trump promotes fossil fuel use, especially coal, and has selected fossil fuel industry insiders and lobbyists for key federal posts, including for Environmental Protection Agency administrator, Interior Department secretary, and secretary of state. He has allowed federal land to be opened up for new mining and oil drilling leases. | Biden will launch a national effort aimed at creating jobs to build a modern, sustainable infrastructure and deliver an equitable clean energy future. He will ensure these investments create good union jobs that expand the middle class. |
| Trump repeatedly worked to reverse the Clean Power Plan—a policy to reduce greenhouse gas emissions from power plants—and to rescind the Climate Action Plan. | Biden will put the United States on track to achieve a 100 percent clean energy economy and reach net-zero emissions no later than 2050. Biden will also reinstate environmental protections overturned by the Trump administration. |
| The Trump administration rolled back regulations on methane and offshore drilling, making it easier for companies to pollute our communities and make them less safe and healthy for everyone. | Biden will stand up to the abuse of power by polluters, especially those who disproportionately harm communities of color and low-income communities. |
| The Trump administration significantly weakened the rule requiring automakers to produce more-fuel-efficient and less-polluting vehicles. As a result, families and businesses will pay an extra $231 billion at the pump between 2021 and 2035, 13,500 jobs will be eliminated, and cumulative greenhouse gas emissions over this timeframe would increase by 654 million metric tons—the equivalent of adding another 140 million cars to the road for one year. | Biden will make a historic investment in our clean energy future and environmental justice. His climate and environmental justice proposal will make a federal investment of $1.7 trillion over the next 10 years, leveraging additional private sector and state and local investments to total more than $5 trillion. These investments will directly help the communities that have been harmed most by climate change. |
| Trump withdrew the United States from the Paris Agreement on climate change, forcing the global climate community to find a way forward without the cooperation of the United States. | Biden will recommit the United States to the Paris Agreement on climate change and lead the global community to find solutions to combat climate change. |
Biden—a lifetime of sharing our values
Biden is a man whose character was forged in Scranton, Pa., where his family faced the economic and social ups and downs faced by so many families. He has been tested by unspeakable loss and grief in his life, and has been nurtured through public service, a love of people and the belief in the dignity of every human being.
It is through these life experiences that Biden has developed an empathy and understanding of what our members, communities and country need. Whether as a U.S. senator, where Biden earned a lifetime AFT voting record of nearly 100 percent, or as vice president, where he provided a voice for the middle class and workers and helped ensure passage of the Affordable Care Act, Biden has a demonstrated commitment of listening to and fighting for working families.
As vice president, he was our "go to" person in the Obama administration, always being willing to listen and to be helpful on the issues we had with policy, like the overemphasis on high-stakes standardized testing, which was ultimately mitigated in the new federal education law, the Every Student Succeeds Act, passed in 2015.
As president, a Biden administration would continue to put middle-class values front and center. He is with us on investing in public education; making healthcare and college more affordable; knowing that healthcare is a right, not a privilege; and rebuilding an economy that puts the needs of everyday people first. His agenda and proposals reflect these priorities, including:
Tripling funding for Title I, fully funding the Individuals with Disabilities Education Act, investing in school infrastructure and expanding community schools;
Building on the Affordable Care Act and making healthcare more affordable by offering a public option and reducing prescription drug prices;
Offering free tuition to attend public colleges and universities for families making less than $125,000, and providing $10,000 per year of student debt relief for those working in public service;
Protecting the rights of workers to collectively bargain and making it easier for workers to join a union, including supporting the PRO Act and the Public Service Freedom to Negotiate Act; and
Ensuring the United States achieves a 100 percent clean energy economy and reaches net-zero emissions no later than 2050.
Biden—the right leader and the right time
Over the course of the primary season, Biden was counted out so many times. He has shown fight and resiliency, and an ability to build the necessary coalitions of support to defeat Trump. Those victories came because voters recognize that he is the strong, effective, experienced, compassionate leader that this country needs right now, with an agenda to address the problems facing this country.
The fight for the soul of America is now more important than ever. In this moment of extreme crisis, it is clear that Trump poses an existential threat not just to our democracy but to our health and safety, as well as to our economic well-being and security as a nation. As our country navigates the worst crisis we have had in generations, as a result of the coronavirus pandemic, it is more important than ever that we rally around one candidate who can show courage in the face of uncertainty, and leadership that has been so clearly absent from the Trump administration. We need a standard-bearer who is actually looking out for us, and who has a proven track record of steering the country successfully through economic upheaval.
We need decency over cruelty, compassion over fear, effectiveness over bluster, and a proven track record to help save lives and ensure people's economic well-being.
---
Earning the AFT endorsement
After the most extensive, transparent and inclusive presidential endorsement process in AFT history, which included more than 300,000 members engaging, Joe Biden has earned the endorsement of the AFT for the Democratic primary.
The AFT's endorsement is based on three criteria: a candidate who shares our values, who has the support of the members and who can defeat President Trump. Biden has met all three, now having consensus support of the AFT membership by a 2 to 1 margin.